New California Tobacco Cessation Policy Research Center to be housed at cancer center
(SACRAMENTO)
UC Davis Comprehensive Cancer Center has launched the state's first-ever Tobacco Cessation Policy Research Center. The Tobacco-Related Disease Research Program, a state research agency administered by the UC Office of the President, is providing $3.7 million in funding to operate the center for four years.
"Tobacco use is linked to 30% of all cancer-related deaths and it gets in the way of achieving health equity," said UC Davis Comprehensive Cancer Center Director Primo "Lucky" Lara Jr. "That's why the new tobacco center aligns so well with our mission and the diverse population we serve. We anticipate that the center will deliver local and regional tobacco control policies, which in turn will result in broad statewide and national impact."
Elisa Tong, a nationally recognized tobacco researcher and an internist at UC Davis Health, will serve as the center's director. Tong is medical director of the UC Davis Comprehensive Cancer Center SToP: Stop Tobacco Program. She is also principal investigator for CA Quits, which works with the state's Medi-Cal managed care plans and providers to improve tobacco treatment delivery.
"The mission of our center is to build capacity for health care access, promote excellence in health care delivery, facilitate health care and community engagement, and achieve equity in health plan coverage," Tong said. "Our center will generate evidence for policy adoption and implementation, collaborate with community and policy stakeholders, and develop the pipeline of researchers to sustain the mission."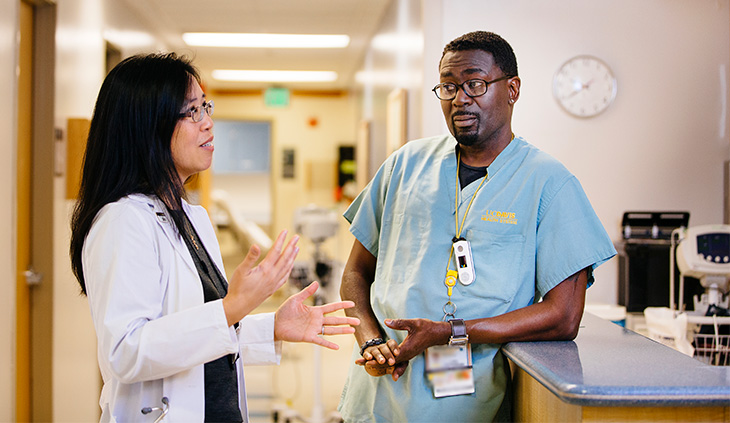 Center partners include the American Cancer Society Cancer Action Network (ACS CAN), UCLA Health and UC Center Sacramento, a UC systemwide program for public policy teaching, research and public service. Both the cancer center and ACS CAN have a history of working throughout Northern and Central California and are members of the Greater Sacramento Smoke & Tobacco-Free Coalition, an important foundation of community collaboration.
"Public health has claimed important victories in California with the implementation of strong local and state tobacco control policies, including ending the sale of menthol cigarettes and all other flavored tobacco products," said Jen Grand-Lejano, ACS CAN senior government relations director for Northern California and grant program. "As we move forward in reducing suffering and death from tobacco-related diseases (such as cancer), we must continue to ensure Californians who use tobacco have access to comprehensive and barrier-free services to help them quit."
"This new center has the potential to significantly reduce tobacco-related harm in our state. As the University of California's main hub for policy-related knowledge sharing in the state capital, we are proud to participate in advancing the training and dissemination aims of this grant," said Richard L. Kravitz, director of UC Center Sacramento.
"Policy changes have great potential to increase tobacco cessation in California, which in turn will reduce overall and disparities in tobacco-related diseases. This new center is an important statewide effort by multiple University of California campuses to reduce one of the leading causes of morbidity and mortality in California," said UCLA Health's Michael Ong, who is chair of the State of California Tobacco Education and Research Oversight Committee.
Advancing tobacco cessation policy research
The new center will deploy four "rapid response" policy projects that will address key areas for current and future legislative policies for tobacco cessation:
Health care access. Community pharmacies are important points of health care access and California pharmacists can furnish nicotine replacement therapy without a prescription. This study will examine barriers to implementing Assembly Bill (AB) 1114. Enacted in 2016, the law allows Medi-Cal plans to reimburse community pharmacists affiliated with Community Pharmacy Enhanced Services Network for tobacco counseling services.
Health care delivery. People with substance use disorders have high rates of tobacco use but people in treatment facilities don't always get the help they need to quit. This study will examine barriers to implementing AB 541 (enacted in 2021) for substance use disorder facilities to conduct tobacco status assessments and treatments.
Health care engagement. California's Senate Bill 793 (effective January 1, 2023) bans the retail sale of most flavored tobacco products and is an opportunity for people to quit menthol and other flavors in e-cigarettes. This study will examine a strategy to engage health care providers on local policy adoption and implementation.
Health care plan reform. Comprehensive tobacco treatment coverage is in place for Medi-Cal but not for other publicly covered health plans, such as those for state employees. Two attempts at legislation to accomplish this have failed. Research can help define health economic scenarios for policy decision makers.
"Study findings will support efforts to expand into subsequent studies or generate new policy efforts," Tong said. "The long-term impact is to improve population-based cessation outcomes that will help fulfill California's aspirations of an endgame to end the commercial tobacco epidemic and help save lives."
UC Davis Comprehensive Cancer Center
UC Davis Comprehensive Cancer Center is the only National Cancer Institute-designated center serving the Central Valley and inland Northern California, a region of more than 6 million people. Its specialists provide compassionate, comprehensive care for more than 100,000 adults and children every year and access to more than 200 active clinical trials at any given time. Its innovative research program engages more than 240 scientists at UC Davis who work collaboratively to advance discovery of new tools to diagnose and treat cancer. Patients have access to leading-edge care, including immunotherapy and other targeted treatments. Its Office of Community Outreach and Engagement addresses disparities in cancer outcomes across diverse populations, and the cancer center provides comprehensive education and workforce development programs for the next generation of clinicians and scientists. For more information, visit cancer.ucdavis.edu.